0.22 Acre Lot in the Gated Golf Club Community of Cobbletone Park - Blythewood, SC - Numerous Amenities! Similar Lots Listed at $15,000 and Up! BUY TODAY FOR $11,000!!
This Discounted Lot on the Course is Waiting for Y.O.U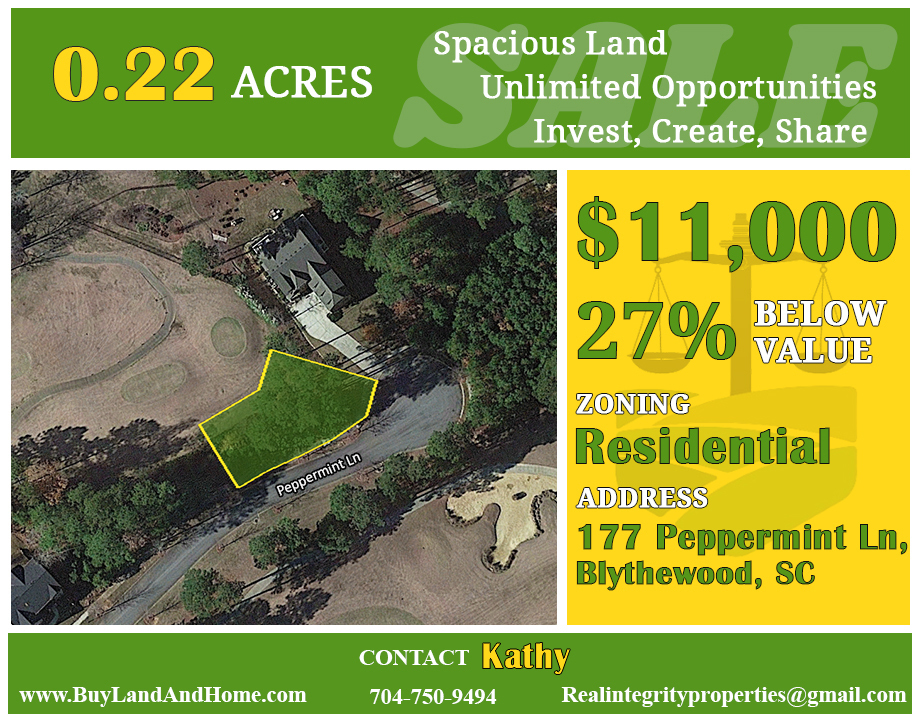 For Sale values in this area are heating up! But YOU can get this BARGAIN at a Steal! Blythewood is a small town with great education opportunities & an overall Beautiful place. All the citizens are very helpful & friendly. You can enjoy being close to the city but in a country setting!  It's a wonderful family-oriented community that hosts lots of different events like festivals, concerts, & barbecues throughout the year. 

The property is conveniently located in the beautiful community of The Club Cobblestone Park where members will enjoy multiple leisure areas that feature a number of convenient amenities including a Resort-style Pool, Seven Court Tennis Complex, Gymnasium with Basketball and Volleyball Courts, Fitness Facility, Playground area for toddler Casual Grill, and the best Golf experience a member could want. Such an amazing lifestyle you and your family can enjoy together.

Are you ready to build your next Dream home in the Taylor Hayes association? This property is very easy to access. If you want to drive by the lot, put the address of 169 Peppermint Ln in your navigation system. You can also download the LandGlide app, input Richland County & parcel # 152040313 to be taken directly to the property. 

Contact us now to learn about this Great deal & our flexible purchase options.
****************************
To visit the parcel, put the following address in Google Maps, it will take you right to the property: 177 Peppermint Ln. The lot zoning allows for a Single Family Dwelling. Electricity is within 1⁄4 of a mile. Buyer must research whether the area has water & sewer connections. The lot is a part of the Taylor Hayes HOA community. Buyer must verify & work with County to know what can & can't be done with the land, obtain proper permits if needed & confirm the availability of any utilities needed/serviced on the lots. Seller makes no warranties or representations about the land, its condition, or what can be built on the parcel.
****************************
Buy this STEAL Today, while available for $11,000 cash
****************************
Several amazing attractions are less than 30 minutes away! A Must See is the Riverbanks Zoo & Botanical Garden. The zoo is nice, clean & very family oriented & the Gardens are Breathtaking! It's a Fantastic place with Great signage, lots of eating options, activities for kids & peaceful walks. And the South Carolina State Museum is a state-of-the-art facility featuring four floors of permanent & changing exhibits, a digital dome planetarium, a 4D interactive theater and an observatory. The State Museum is the largest & most comprehensive museum in the state. Additionally the lot is only 27 minutes from Columbia & a short 52 minutes to Rock Hill.
****************************
Purchasing property from us is quick & effortless. This property will be closed by a local title company & is guaranteed to be free of all liens and encumbrances. Buyer will receive title insurance & warranty deed. Message us here/call us today to get started.
****************************
Purchase this property for $11,000
****************************
Property Details:
Lot Type - Land
Sale Price - $11,000
State - South Carolina
County - Richland
Assessor's Parcel Number  - 152040313
Property Usage: Single Family Dwelling
Property Address - 177 Peppermint Ln, 85, Blythewood, SC, 29016
HOA Community: Taylor Hayes HOA Management Company
Size - 0.22 Acre(s)
Road Access - Yes, Paved
Electricity - Within 1⁄4 mile
Water/Well & Sewer/Septic - Unknown
Market Value: Similar sized lots in the area are listed for $18,900
****************************
To buy this lot at this discounted price call/txt/email Kathy@ 704-750-9494, realintegrityproperties@gmail.com. Don't miss out on this great deal call/text us now! Note: We also may have other property at bargain prices just like this one available - ask us when you call!
Map To Property
Property Address:
Property Details
Status: Available
State: SC
County: Richland
Parcel Number: 152040313 Plat Map
Short Legal Description: Lot 85 151x78.2x88.4x81.6 #su Cobblestone Park Ph 8 @ The University Club
Annual Property Taxes: 437.06
Annual HOA Fees: 410.00
Size (In Acres): 0.22
Road Access: Yes - Paved
Electricity: Within 1 mile
Zoning: Residential
Terrain: Flat
Similar properties in the area are listed or have been recently sold for around $16,901.
Buy this property today for just $11,000! (You save $5,900)
I'm Interested In This Property